FREQUENTLY ASKED QUESTIONS
Q: WHERE ARE YOU BASED?
A: I'm based just outside Glasgow but regularly travel down south to see family. I am available for weddings all over the UK, Europe and further. For full-day weddings, travel within 60 miles return is included, but if your wedding is further than that additional charges may apply depending on travel distance, accommodation expenses, etc.
Q: WHAT INFORMATION DO YOU NEED FROM ME BEFORE THE WEDDING DAY?
A: At first, I will e-mail you my booking form to get some basic info. And that's how we get the ball rolling! Another questionnaire is sent to you, four weeks prior to the wedding (for the finer details).
Q: HOW MANY PHOTOS DO YOU DELIVER?
A: I select the best photographs from the day, edit them individually in my signature style, create a photo-story and ensure that each photo that goes into your album is the best it can be and tells a story. I don't keep photos for myself. If the photo is good – it gets included in the final batch! For my full-day weddings, the minimum you will get is 500+ photographs.
Q: HOW WILL I RECEIVE MY IMAGES?
A: With my full-day collections you'll get your high res ready to print files on USB, + selection of prints and in addition all files will be uploaded to a private online gallery, with options to view, share and download.
Q: HOW LONG WILL IT TAKE TO GET MY WEDDING PHOTOS?
A: I aim to have your online wedding gallery available between 6-8 weeks after your wedding date.
Q: CAN I PURCHASE ALBUMS AFTER THE WEDDING DAY?
A: Of course. I have a selection of albums to choose from.
Q: WE ARE NERVOUS ABOUT HAVING OUR PHOTOS TAKEN.
A: Please don't worry about this. Very few people like their picture being taken and worry about what to do in front of the camera. Its my job to make you feel at ease and I will help guide you into flattering but natural poses as we go, by the end you will probably actually have enjoyed your couple shoot. All my couples have mentioned how much easier they found it and actually had fun!
Q: DO I HAVE TO ORDER PRINTS THROUGH YOU?
A: No, they are your images to do with as you wish however I do recommend that you use high quality printers so that your image colour and quality are the best. Prints are available on your online gallery.
Q: HOW DO WE RESERVE OUR WEDDING DATE?
A: A booking fee and signed contract is required in order to get your date on my calendar.
Q: DO WE HAVE TO MEET WITH YOU AT THE VENUE PRIOR TO OUR WEDDING TO DISCUSS LOCATIONS?
A: No, depending on the weather and time of year this can be a bit pointless as the light can make such a difference on your actual day. I usually turn up early for my weddings to gage the best locations depending on the weather and light on that day.
Albums
– Bespoke, made to order Photobooks (£350)
– A range of high quality prints products
Black Book of brilliant wedding suppliers
The team of suppliers you choose for your day is so important to how your day flows and also the calm and relaxing atmosphere on your special day. Photographers and videographers work closely together on your day so it works best if they have similar approaches as it makes it easier for the couple, I have been lucky enough to work along side some fantastic videographers  over the past 10 years in the industry , and I am often asked for recommendations. I take this question extremely serious, as how I capture a wedding is very discreet and respectful and anyone I recommend must have the same style of approach.
Below is small hand picked list of my recommendations for you to consider..
Simplicity rules. No Egos. No huge teams, rigs or massive cameras. No silly posing, just subtle natural direction.
I take on a limited number of commissions each year so I can give each project my full attention.
My approach to documenting a wedding is to be completely discreet, I feel it is important to respect the environment of a wedding day. My goal is to move through the day and night largely unnoticed.
Memories by Movie is an Ayrshire-based wedding videographer; we have been producing wedding videos for the past 13 years. It is our absolute passion!
Our style is unobtrusive, relaxed, fun and the occasional Dad joke!
We do wedding videography without taking away the spotlight from you on your special day!
Everyone has their own moments where their life pivots. Many of us will meet someone, many of us will get married and may have children but these events are individual to each and everyone who experiences them. We come to them as different people with different histories, they happen to us differently, often in a different order and with other moments in between. These times, these experiences collectively tell your unique story.
These unique stories are what drive us to do what we do, the idea that we get to meet a couple and tell a story that is individual to them is a powerful incentive to get up, go to work and create. I treasure these moments in my life and I know how much I want to feel those moments again.
This is what goes into every film we create, it is the entire foundation of our company, to take you back to that moment in time and not just watch what happened on your wedding day but feel it and relive it as close as possible.
Family/Baby photoshoots
Prices start at £300 which includes an hour of shooting, 30 edited images and private online gallery with USB.
"As one person I cannot change the world, but I can change the world of one person."
A percentage of profit for every baby and family booking  will go towards the charity RAKE (Romanian Appeal Killearn England). RAKE is a small charity set up by a group of dedicated volunteers (started by my own Mum & Dad) who got together after witnessing the horrors of some of Romania's childcare institutions in the early 1990s. They registered as a charity in 1994, having spent the previous four years working to relieve some of the hardships for the people in the Vaslui region of North East Romania. They delivered clothes, shoes and toiletries to a number of villages, schools and state childcare institutions. They developed a good relationship with the local authorities and doctors and were able to supply much needed medical equipment to local hospitals.
In 1993 they met up with Linda, a British paediatric nurse working as a volunteer in a small village orphanage caring for a group of severely neglected children. This led to a change of focus with less aid trips being made and more effort being put into changing the lives of the children in the orphanage.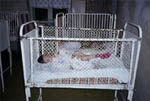 The children, aged 8-10 years were severely malnourished and had spent their lives confined to rusty cots. They were afraid of human contact, bottle fed, incontinent and unable to walk or talk. Linda had gainedtheir trust and they started to see amazing changes in the children.
When the children were moved to a large state institution for the disabled Linda went with them but they soon began to deteriorate back to their former fearful behaviour. They decided to set up Casa Linda a project to provide them with a loving home.
For more information on RAKE please check out their website