Weddings
Your wedding is going to be relaxed and romantic, so let's keep the planning process sweet and simple. 
UK weddings start from £1400 (for weddings anywhere else in the world please get in touch for a quote)
Packages include the following:
– Minimum 8 hours coverage from bridal prep to your first dance.
– Around 600 digital, high-resolution images that authentically document all the details of your wedding day.
-All images in colour and black & white
– My retouching time and skill, ensuring that every single one of your gallery images has been handled and refined in my style.
– A bespoke USB stick for you to keep your beautiful gallery.
– 30 Complimentary prints
-Full printing rights
– A complimentary online gallery of your photographs which you can share with family & friends.
– The option to purchase beautiful print products and  photo-books when you're ready.
EXTRA SERVICES & ADDITIONS
– Bespoke, made to order Photobooks (£250)
– A range of high quality prints products
– Adventurous and creative engagement sessions. On the beach? In the highlands? In the woods? This is a chance to be as creative as you like with locations as its just you two. (£200 plus travel costs)
My diary for 2020 is booking up fast with adventures and fantastic couples, 2019 is now 80% full.  I'm usually booked 1 year in advance so please get in touch and I can't wait to hear from you.  
Couple Photo Session
Prices start at £200 which includes an hour of shooting in a location of your choice, 30 edited images and private online gallery.
Family/Baby photoshoots
Prices start at £180 which includes an hour of shooting, 30 edited images and private online gallery with USB.
Cake Smash Session
Prices start at £150 which includes an hour of shooting, 20 edited images and private online gallery with USB.
"As one person I cannot change the world, but I can change the world of one person."
A percentage of profit for every baby and family booking  will go towards the charity RAKE (Romanian Appeal Killearn England). RAKE is a small charity set up by a group of dedicated volunteers (started by my own Mum & Dad) who got together after witnessing the horrors of some of Romania's childcare institutions in the early 1990s. They registered as a charity in 1994, having spent the previous four years working to relieve some of the hardships for the people in the Vaslui region of North East Romania. They delivered clothes, shoes and toiletries to a number of villages, schools and state childcare institutions. They developed a good relationship with the local authorities and doctors and were able to supply much needed medical equipment to local hospitals.
In 1993 they met up with Linda, a British paediatric nurse working as a volunteer in a small village orphanage caring for a group of severely neglected children. This led to a change of focus with less aid trips being made and more effort being put into changing the lives of the children in the orphanage.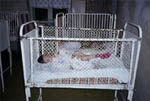 The children, aged 8-10 years were severely malnourished and had spent their lives confined to rusty cots. They were afraid of human contact, bottle fed, incontinent and unable to walk or talk. Linda had gainedtheir trust and they started to see amazing changes in the children.
When the children were moved to a large state institution for the disabled Linda went with them but they soon began to deteriorate back to their former fearful behaviour. They decided to set up Casa Linda a project to provide them with a loving home.
For more information on RAKE please check out their website